PC Sales Crash as the "Unstoppable Rise" of Mobile Continues
Posted By Praveen Joshi on 16 April 2013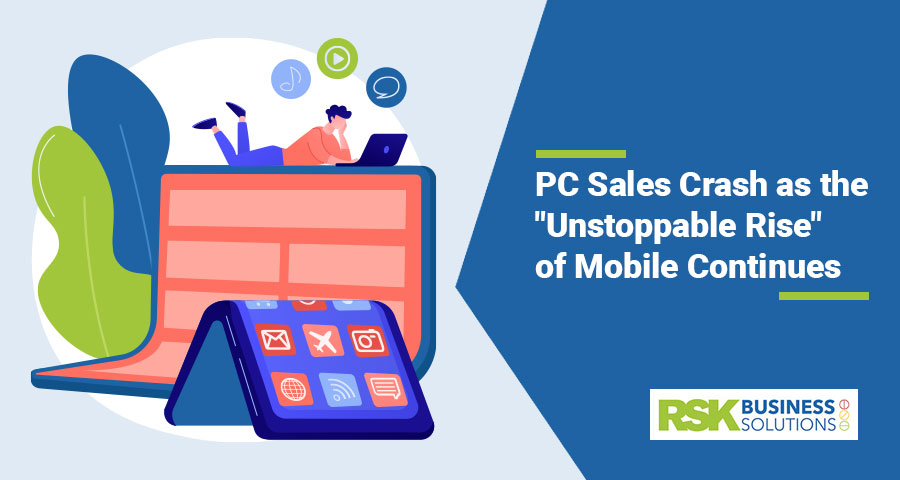 We've mentioned in our blog a couple of times now that the New York Times called mobile marketing "the most powerful medium ever invented" and stories from highly credible news publications continue to paint this picture. Towards the end of last year, major online tech and marketing publication, Techcrunch even called the surge in mobile technology an "unstoppable rise of the smartphone". Data analysis prior to marketing budget allocation can often be tedious, but this is one market shift which is much more obvious than most.
Recently, information released by global market research firm, the Information Data Corporation (IDC) demonstrated how sales in personal computing have hit an all-time low since it started tracking these metrics in 1994. Towards the end of 2010, the total market share of what IDC describes as "smart connected devices" which was owned by PC's was about 23%. In just 2 years, this dropped to an all-time low of just 12% in 2012.
While laptops have increased in popularity through the early stages of this millennia, their market share also plummeted from 29%, right down to just 17% in the same timeframe. Meanwhile, tablet devices surge in popularity, almost quadrupling in market share, rising from 3% up to 11%. The already-dominating smartphone share grew from a massive 45% right up to 60% of the total market share.
What Does This Mean for Your Marketing Budget?
If you're a desktop computer fan, as many of our team are, it's sad to see the decline of the platform. Companies such as Hewlett-Packard have experienced a 24% drop in sales during this period, another highly significant indicator. Interestingly, back in 2010 at the release of the original iPad, Apple mastermind Steve Jobs stated in an interview with journalists that we were entering a "post-PC era".
While this comment was met with some scepticism and widely regarded as marketing hype just a couple of short years ago, we're now undeniably seeing the realisation of this prediction.
Why are PC Sales Dropping so Drastically?
It's clear that the evolutionary turning point of the smartphone represented by the first Apple iPhone in 2007 was a major turning point which led us to the present situation. Back in 2006 and the years prior, shopping, video, gaming, e-mail, social networks and other communication was simply impractical on mobile devices and this was as much due to poor interface design as hardware limitations.
In an interview with BBC journalists, a BCG Partner analyst also struck out to Microsoft's Windows 8 as being partially to blame for the drop in PC sales. Colin Gillis even went as far to say that the news was "horrific" for desktop computing and that it's now "all about mobile."
Looking to the Future
These market research figures show PC sales for the present, but what about the future? Well, according to many market research and statistical analyst's data published in established publications including Forbes magazine, it's estimated that smartphones alone will exceed 1.5 billion units sold each year by 2016. Techcrunch was not overstating things when it used the words "unstoppable rise". Watch this space for further market updates and news analysis from
www.mobile-application-developer.com
Latest Posts