About the Asbestos Risk Management Portal
RSK Business Solutions have developed the digital Asbestos Management System. Asbestos health and safety is vital to any workplace, and in order to ensure you comply with legislation, it is necessary to keep an in depth record of asbestos data.
Our Asbestos Management System is ideal for anyone who takes on duties and responsibilities relating to the legislation and management of asbestos, particularly when creating a management plan.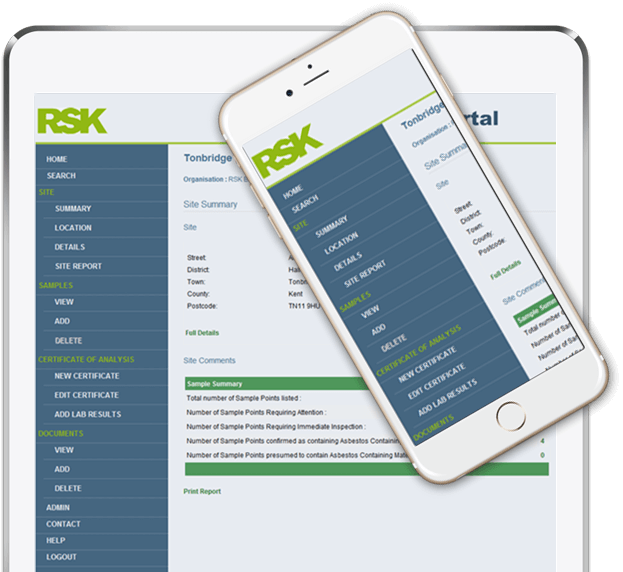 Web Portal

The Asbestos Risk Portal captures and displays large amounts of data in a coherent and structured design.
Users can view and update sites, samples, certificates and documents to easily manage their projects.
Tailor-made user accounts can grant or restrict access rights for a secure and simple-to-use system.

iPad App

The web portal is complimented by an iPad application which adds portability to the tool.
The app can easily be carried on-site to survey and assess asbestos and update the portal in real-time.
Eliminate the need for flimsy, unresponsive paper-based records.
Key Benefits and Features
The RSK Asbestos Management System is perfect for property management companies, local authorities or any company that manages large amounts of data. It uses an online portal and a web app to allow the user to keep track of data across multiple platforms for ease of use. The portal structures the data so large amounts can be controlled coherently with minimal effort.
Monitoring and storing data including HSE asbestos risk assessments is key to constructing an adequate asbestos management plan. User accounts can be tailored to create varying levels of access by granting or restricting user privileges. This creates a simple yet secure system in which businesses can view and update sites, samples, certificates and documents to easily manage individual or multiple projects.
The iPad app allows users to have portable and easy to update access to the Asbestos Management System in order to conduct on-site surveys and asbestos assessments. It quickly eliminates the need to maintain easily lost paper records, with cloud storage for all files.
The Risk Portal System allows our clients to keep up-to-date with the progress of their asbestos surveys, re-inspections and removals to ensure that they remain compliant with the Control of Asbestos Regulations 2006.
The system follows the new Health and Safety Guidelines and has passed a UKAS accreditation audit,The tool is linked to a powerful database, so you can easily connect all your data and structure it in a logical and organised fashion, making it easy to locate and utilise.
When generating an asbestos risk assessment, rather than plugging your information into the computer repeatedly to generate an online risk assessment, your asbestos records are immediately available. The tool allows for comprehensive reports to be generated, so you can ensure that your asbestos records are always thorough and well maintained.
Let's talk about your project