About the Online Recruitment Timesheet
RSK Business Solutions offers a fully customisable web-timesheet solution, designed to help clients keep track of their contractors' time and attendance records easily and effectively - leaving more time to focus on other key priorities.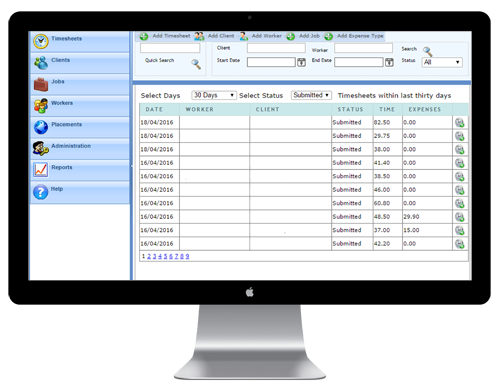 We work closely with clients to ensure our timesheeting solutions fully support their desired time management process. Examples of the flexibility offered by the RSK product include:
Integration with current CRM tools: We develop a front-end import facility, where by all client, charge and candidate data can be lifted directly from their existing Customer Relationship Manager. This saves considerable time and effort and ensures that clients records are up-to-date and accurate.

Support for most accounting packages (such as: SAGE) to allow a back-end export function to create invoices.
Our online timesheet is built using the latest Microsoft technologies, boasting dynamic web design, rich content support, fast connectivity, secure data transmission and excellent scope for integration with other systems. All data remains the sole property of clients and an export of, or access to, the data is available to clients at any time.
Stay Connected

With our online solution, you don't need to be in the office to track timesheets.
Track your work from anywhere at any time.

Improve Efficiency

Better manage the entire contractor placement cycle with a solution tailor made to your agency specific requirements.
Eliminate the need for paper based records: no more timesheets with incorrect hours, rates or jobs.
Monitor your timesheets in real-time.

Empower Contractors

Give contractors a personalised view of their timesheets with their own online access.
Allow submission of timesheets at any time from any place.
Reduce the time spend completing timesheets with a responsive, intelligent system.
Key Benefits and Features
The online timesheet solution offered by RSK means employees can stay connected wherever they are; and you do not need to be in the office to track incomplete timesheets. This allows you to better manage the entire contractor placement cycle, with a bespoke solution tailored to agency specific requirements.
Eliminating errors is another key benefit of online business timesheets. Our online solution lets you get rid of paper based timesheets with incorrect hours, rates and job codes and enables more effective recording of work completed.
You can also provide your clients with value added services in the form of online access for creating contractor-specific reports and insights into how time is being spent - using real-time data. Plus, this real-time access lets contractors submit their timesheets from anywhere, at any time.
Current Clients
We currently provide timesheet solutions for clients of all sizes. Our online timesheet solution works in various domains, including: recruitment, education and project management, meaning you're sure to find an option that works for you. We have successfully implemented our solution for a variety of clients, including larger customers such as National Grid, as well as small and mid size recruitment agencies.
Let's talk about your project